Using a quilling paper mould isn't difficult at all!
Facing difficulties to shape your quilling? There are some fun gizmos that can be really useful and worth your time or money. Let's impress everyone with your DIY and creative dedication with 3D Paper Quilling Mould. 
3D Paper Quilling Mould is handy for creating uniform 3-dimensional domes. Of course, it is totally possible to make domes without a specific tool, but when you're looking to create many that are the same size, this can be really convenient.
Features:
✅ Instant 3D dome creation. No more using random objects to shape your coiled strips into domes. With this mold, you can do it with just a press of your index finger.

✅ Easy to use. Simply place your coiled strip on top of one of the domes. Place your thumb and index finger in the center of your coil. With even pressure, move your fingers to the outside of the coil while pushing down gently. Take your paper off the mold, and just like that, you've got a paper dome.

✅ 

Different 3D designs.

 If you're looking to make an entire sphere, simply make 2 domes of the same size and glue them together. These domes are perfect for making round or half-round quilled objects like pots, cherries, cones, cupcakes, animals, and more, You can use different colors of quilling paper to make some bright stripes. Or try a lovely ombre effect! 
✅ Built to last.

 Constructed of tough plastic for extra durability, this quilling accessory will help you mold your coiled strips into semi-spheres for many years to come. A must-have in every quiller's toolkit.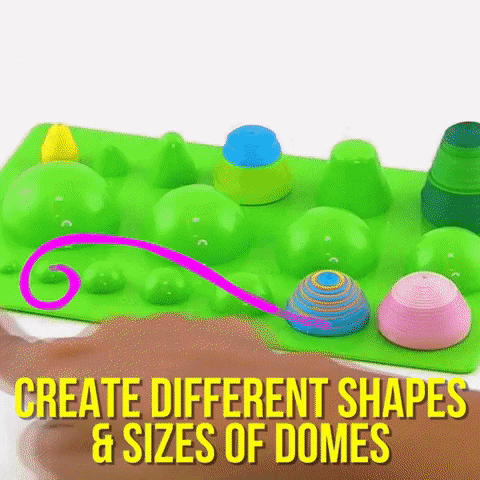 Specification:

Material: Plastics
Color: Pink, Blue
Size: 185mm x 125mm
Package Includes:
1 x 3D Paper Quilling Mould (Random Color)