In need of a foot massage but no time? This Acupressure Reflexology Slipper relieves foot muscle tension! It is a newly-released footwear massager which applies reflexology and acupressure to the entire of your foot from the toes to the soles. The rotating balls press into the pressure points on the bottom of your feet which in turn affect your whole body. Each ball is contrived to apply a maximum effect with minimal effort. Just spend 10 minutes to enjoy a professional reflex foot massage by simple walking, you can make your body better.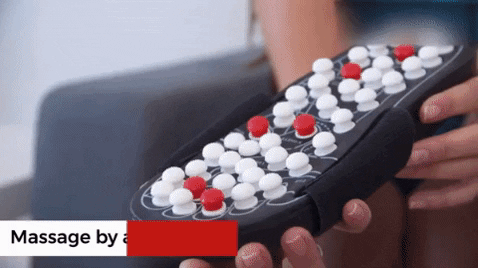 Features:
Functions: Contains 41 massages points that cover every acupoint in your foot. Has a great effect on refreshes tired, sore, achy feet. Promotes better blood flow to enhance overall health. An ideal element for health care.  

Convenient: Enjoy a professional reflex foot massage by simple walking. You may feel painful for the first several times use if you have a tight foot, add socks, and shorten the wearing time will help you feel better. Able to do feet massage anytime, anywhere.

Adjustable to Complement any Foot Size: This slipper comes with effortless to adjust velcro straps. You can alter the width of the foot massager for plantar fascitis, ensure they fit comfortably on your feet.
Anti-Slip Design: The slippers sole made of high-quality EVA material. The design of cushioning and deep scratches make the skid resistance better.
Package Includes: 1pair x Acupressure Reflexology Slipper