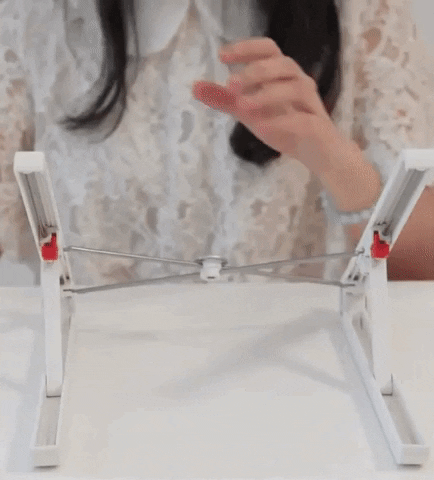 Does your neck start hurting when you use your laptop for several hours? The perfect way to use your laptop is to look straight ahead just like a desktop screen. The problem is, what do you use to lift up your laptop and hold it? This Adjustable Laptop Stand allows you to adjust the height to get the most comfortable viewing position. Even after hours and hours, you won't feel any more neck pains from looking down. It also easily folds to a stick that fits in your bag or pocket and brings to anywhere.
Features:
🔷 Ergonomic Design: Easy to raises your laptop height to get the most comfortable viewing position to prevent back, neck and wrist pain.
🔷 Compact, Lightweight and Foldable: Lightweight just 0.6 pounds with strengthened nylon fiber material. It can be folded to a stick when not using and easy to carry anywhere.
🔷 Easy Height Adjustment: Adjustable from 26 degrees to 30 degrees by simply press 2 red buttons to slide down to adjust the angle of inclination.
🔷 Durable and Stable: Weight support up to 25 Ibs for most of the 11 ~17" laptops. Additional baffle pad set included for difference thickness of laptop usage.
🔷 Easy Operation: One second quick open or close design. Improve airflow and heat ventilation of laptops during operation.
Package Included: 1 x Adjustable Laptop Stand