Make your book bindings EASIER and scrapbooking even more ARTISTIC!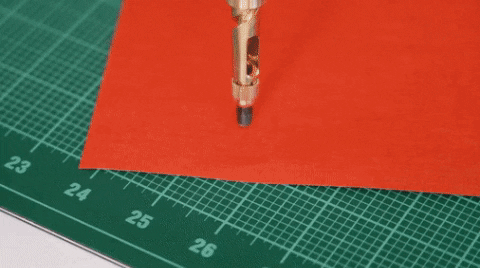 Punch holes EFFORTLESSLY and conveniently with the help of this Automatic Rotary Puncher!
Features:
Simply Press and Turn!

This is an AUTOMATIC rotary puncher with a strong rotary hole punching mechanism! Fixes snap and add eyelets INSTANTLY!
Effortlessly punches through Thick Book Pages, Leather Belts, and Chipboard!

Widely applicable for different jobs and INSTANTLY DRILL HOLES into leather, papercrafts, and even on fabric! No more hammering or exerting too much effort!
Interchangeable punching tip sizes

Interchangeable punching tip sizes features that can easily ADAPT to what hole size you need! The tips are easy to install and remove as well!
Precise Rotary Punching Mechanism

This Automatic Rotary Puncher also has an ergonomic hole punching tool overall design! The size is compact enough for you to carry it anywhere you go! Handles and grip are comfortable! Made of brass with wooden handle for more durability and stability.

Bookbinding and scrapbooking Made EASY and FUN!

Safe, no pointed edge, non-toxic, and gives precise results! Very easy to maneuver and can be used without any hassle!
Package Includes: 1 x Automatic Rotary Puncher (4.0mm, 3,5mm, 3.0mm, 2.5mm, 2mm & 1.5mm)