Both road and trail bike tires will kick up a lot of debris over time. Cables will flex and move around causing wear and tear on the paint on your bicycle frame. Considering how much money is spent on your bike, you want to protect its paint from this abuse. With our Clear Bicycle Frame Guard, you can protect your bike for the long haul.
We cut this universal product to fit most bike's top tube and down tube. This way you get protection across most of your bike's frame.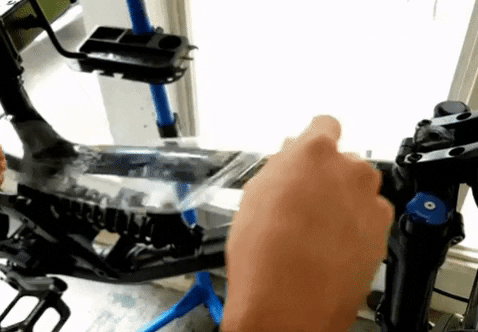 Protect Your Bike!
Your new bike looks great, but it won't last long. The more you ride your bike the more damage it will get from cables, road debris, and your own shoes. Protect those vulnerable areas with a thin layer of protection. After applying our Bicycle Protective Film, your bike's paint will be safe and secure. Our Frame Guards take the damage so your bike doesn't have to.
Protective Qualities!
This Bicycle Protective Film is designed to take the abuse that your bike would normally take.
UV-resistant!
Bicycle Protective Film is transparent but won't turn yellowish over time, thanks to its UV-protection. It will even protect the underlaying frame paint from UV degradation.
The film absorbs damage from:
Small impact damage
Sandblasting
Scrapes from chains, cables, and shoes
SPECIFICATION:
Material: PVC
Length: 3 meters
Width: 10cm
Color: Transparent
PACKAGE INCLUDES:
1 x Bicycle Protective Film