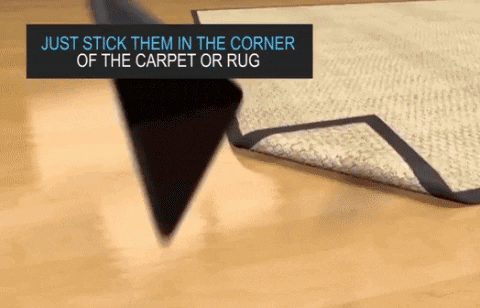 What is Carpet Mat Grippers?
 4pcs of triangle-shaped anti-skid mat rug grippers, which are made from durable soft rubber material and intended to be

placed under rugs or mats to keep them in place.

It has hundreds of mini suction cups grip to the floor with ease so, it can well

prevent rugs from sliding, bunching or folding, no matter how slippery the surface. 

With the grippers, your

kids and pets can play around the house without the worry of them slipping or falling.
FEATURES:
Strong Stickness: Those rug grippers can stick to basically any dry object surface, and have strong static friction force so that they can keep your rug or carpet stay. Eliminate annoying and dangerous curled rug corners, your kids and pets can play around the house without the worry of them slipping or falling.
Protect Your Floor: No smell, you don't have to worry about any residue left on your floor or it scratching your tiles and floor. Keep your home tidy and safer with these reusable rug grippers! You don't worry about the tape will leave the residual glue. Also, it does not contain any oil, so it can perfectly protect your floor.

Easy to Clean:

If the tape gets wet and losing stickiness, you just need to wait for the tape to dry. Then you can continue to use it with great grip.
Easy to Install:  It is so

easy to use, and it works perfectly for hard floors - hardwood, wood floor, linoleum, tile ceramic, etc.

The more discs used, the better the rug be will be anchored to the floor. Remove the adhesive backing and stick the discs to the bottom of the rug you want to secure. Then remove the film covering the silicone surface and press the rug firmly onto the floor.
Reusable: Have excellent quality and reusable sticky surface, simply

wash the rug grippers with soap and water if its got dirt or starts to loose its stickiness and it will be good as new.
PACKAGE INCLUDED:
4pcs x Carpet Mat Grippers