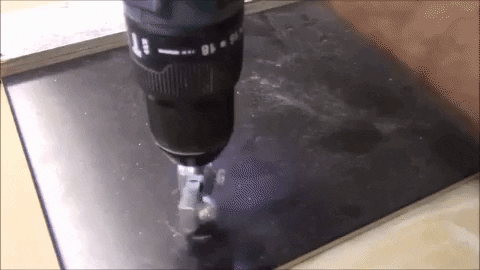 This 100mm circular cutter is widely used for opening holes in wood, plastic board, gypsum board, PVC sheet, glass, porcelain, etc. The tungsten carbide blade is drilled 40-100mm with Hex shank & debris guard. This carbide hole saw is suitable for any variable speed drill.

The hole saw is made of premium material tungsten carbide that makes the drill more durable and stronger. Multiple forging process makes the tile cutter tougher.
This cutter adopts professional and practical design, which is compact for easy carry and use. The ceramic hole cutter unique shield design is safer for both you and machine while drilling.
How to Use:
Allow adequate clearance beneath the tile.
Always use a slow drill speed, roughly 400rpm. A hand drill is preferable or a drill with variable speed power settings.
Keep the drill tip and workpiece cool using water.
Feature:
Cuts circles cleanly, quickly and accurately in ceramic tiles.
Tungsten carbide blade drills holes from 1.6-4in/40-100mm.
Hex shanked.
Safety guard. Use with any variable speed drill.
Tungsten Carbide Blade.
Simply adjust to the diameter hole you require.
Used to cut holes in wood, rubber, ceramic tiles and so on.
With protective cover.
Package Includes: 1 x Circular Tile Hole Cutter