Contour Duplication Gauge help to draw irregular contours with precision!
Contour Duplication Gauge makes cutting and measuring become easier. With the easy-moving needles, it can perfect shaping the odd shape, curves, irregular corners, contours to laminate, carpet, wood board, tiles in a woodworking project, construction, home decoration and more!
Provide high precision and every single needle down to 0.05 inch, which can provide you a more accurate data. Marking precise cuts as it perfectly conforms to shape and holds its pattern.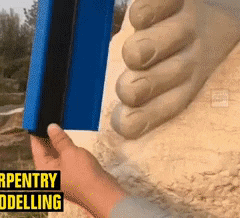 FEATURES:
Instant Template for Irregular Shape - It is designed for winding pipes, circular frames, ducts and many objects. Ideal for fitting tiles, laminate, carpet, checking dimensions, molding, etc.
High Precision - It comes with ruler markings to make measuring and cutting easier. Every single needle down to 0.05 inches, which can provide you a more accurate data.
High Quality - It is made of high quality, high strength, durable, and anti-rust plastic material.
Easy to Use - Simply press the needle against the object to match the contour and then trace the shape.
SPECIFICATIONS:
Material: High-quality ABS Plastic
Color: Blue + Black
PACKAGE INCLUDED:
1 Unit x Contour Duplication Gauge