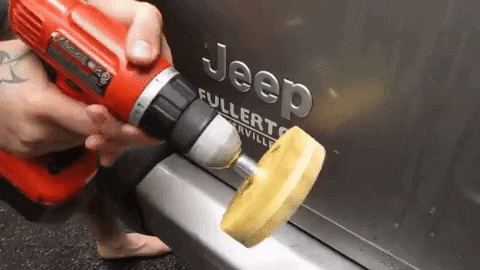 Decal Remover Wheel
is specially designed for
quick and easy removal 
of decals, vinyl pinstripes, bumper stickers, reflective tapes, etc., from glass and OEM, painted surfaces
without any damage
. Also very
effective in removing adhesive tapes and glue
from the back of moldings.
Features

Remove 

pinstriping, decals, glue, stickers, tapes, and other adhesives

 

from metal, glass, wood, fiberglass &, etc.

Won't damage

 

the surface if 

properly used. 

Keep in mind that too much pressure in the same area could cause the

 

rubber wheel 

to damage or stain that area. Please use

 

appropriate pressure

.

Simply mount the eraser in any drill that

 

does not exceed 4,000 RPM 

(recommended speed is

 3,500 to 4,000 RPM

.) and safely remove all the old body

 

striping in minutes

. Unlike chemicals and solvents commonly used for this job, the soft wheel has a 

gentle finish.
Dramatically reduces time spent on the removal of pinstripes

, decal adhesive, and double-sided tape!
Application:
Let the wheel do the work, apply light pressure only.

Start at the top of the decal and move side to side.

For faster results, use the entire width of the wheel, do not tilt on an angle.

Remove any residue with an appropriate mild solvent.
Package Includes: 1 x Decal Remover Wheel