Sew With Precision Without Slipping Fabric!
Having a hard time sewing on sticky fabrics? Worry no more! Use this Double Roller Presser Feet to prevent clinging to sticky fabrics! Made of high-quality ABS materials, wear-resistant, and durable. It helps to prevent the occurrence of stitch length, reduce friction with materials, and prevent inconsistencies in the length of materials.
The Double-sided Roller Presser Feet is simple for installation and easy to use. Great for all wrinkled fabrics such as down jackets, leather coats, raincoats, bags, plastic products, etc. Let's make your sewing experience more comfortable and trouble-free! Make sticky fabric sewing easy with the Double Roller Presser Feet.
FEATURES:
INNOVATIVE NYLON ZIP RING DESIGN: This foot allows smooth and easy sewing on slippy fabrics. The double ring lets thick material pass under the footer. Easily slide on your sewing machine to make your work fast and easy.
PREMIUM NYLON QUALITY: Made of high-quality double plastic T350 nylon material that is sturdy and water-resistant that can be used for a long period of time.
WIDE APPLICATION: Perfect for all thin fabrics, rubber or plastic materials such as jacket, coat, silk, thin leather, synthetics, laminates, thin rubber rugs, and many more. Works Even for Thick Fabrics Like Down Jackets!
FITS ALL HIGH SHANK SEWING MACHINES: It is great to use for ALL high shank industrial sewing machines. A sewing machine helper to make your sewing project convenient and hassle-free!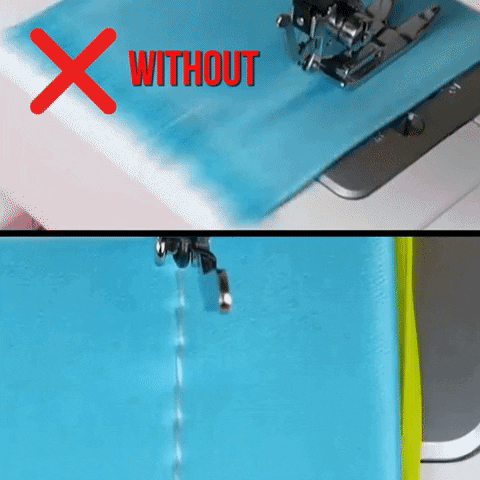 HOW TO USE:
First, remove the screw that is attached to the sewing machine's presser foot
Attach the double roller foot to the shank using the same screw and small screwdriver
Tighten the screw using a screwdriver and position the fabric in the middle of the double roller foot to allow smooth and easy sewing on slippery fabrics
Now you can start sewing after positioning the fabric
PACKAGE INCLUDED: 1 x Double-sided Roller Presser Feet (2pcs)