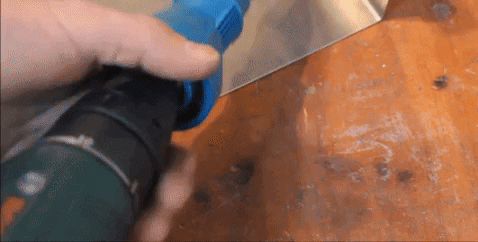 The traditional way of riveting is too laborious, inefficient, and noisy. It's time to follow up the pace, riveting is now easy with DrillerRIVET™!
It is a tool adapter for electric drill / cordless that is practical and does not need to drain energy for mounting rivet nails. You no longer need to cock (tapping) again to rivet aluminum. Just use this electric cordless drill that can let you done the rivet automatically. 
To operate this riveter, attach it to a portable drill, hold the riveter body, and reverse the drill to fasten it. 
FEATURES:
Lower Noise-

 No more hammer sound from the traditional riveter.

Increase Productivity-

 Ensures high productivity and improve your return on investment with a very low installation cost. Furthermore, you are using the same drill for drilling and riveting!

Improve Efficiency-

 The rivets do not drop out. Quick-release and installation, excellent ergonomics, great strength, and great added features

.

Convenient & Labour Saving-

 Contrasted with the traditional riveter, the insert nut makes tasks so easy when connected with the drill, reducing user fatigue

.

Wide Application- Compact size and weight for areas of the manufacturing industrial fastening. Applicable to all kinds of sheet metal, pipes. Reduced user fatigue

.
METHOD OF OPERATION:

Pick the right size opening for your rivet, there are 4 to choose from.
Attach the tool to the cordless drill.
Hold the tool, before it starts to grab the rivet, hit reverse on your drill until you feel a click. The rivet can be fitted in once the teeth widen. Put the rivet in the tool and slowly hold the handy part of the tool and pull the drill trigger, when you feel it start to grab the rivet.
Put it in the hole that you wish to rivet and keep holding the handy part and hit the drill at full.
Once the rivet pops, keep holding the handy part of the tool and hit reverse on your drill.
The teeth will widen and the old rivet shaft will drop to the ground. Put your drill back in the forward position and rinse and repeat.
SPECIFICATION:
W

eight: 1.1 lbs

Nozzle Size: 3/32", 1/8", 5/32" and 3/16"

Aluminum: 2.4mm-4.8mm

Steel: 2.4mm-4.0mm
PACKAGE INCLUDED:
1 x Riveting Tool

1 x Handle

2 x Wrench