Drilling and driving can be exhausting if you need to switch tools. Quick Flip Drill Driver reduces your working effort, just flip the bit to the other side to switch to screwdrivers or drill bits!
The set comes with:
2 different size countersink bits

(3/32" 2.4mm, 1/8" 3.2mm)

8 Phillips bit (2pcs: PH0, PH1 and PH2, PH3)

8 flat bits (2pcs: 1/8" 3.2mm, 5/32" 4mm, 3/16" 4.8mm, 1/4" 6.3mm).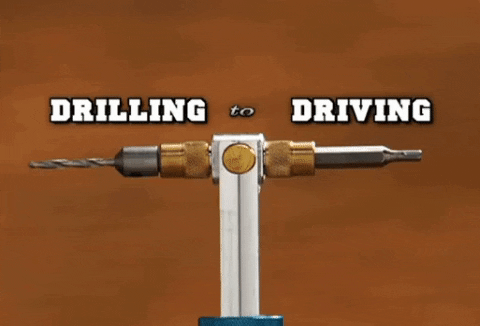 Quick Flip Drill Driver features high-quality bits with durable 5/16-inch shanks. The black oxide drill bits produce accurate and precise drilling. To switch and flip the tool, slide the sleeve upwards to release the mechanism and secured it back by pushing down the sleeve. The innovative quick-change mechanism ensures quick and easy one-step loading.
Features:
Drill drive in seconds: Easily switch between bits in seconds.
Alloy steel materials: High strength and hardness. Durable, practical and longer service life.
Swivel head: Flips & locks from drilling to driving. Works with your own power drill.
Multiple attachments: Comes with 8 Phillips bits, 8 slot bits and 2 countersink bits which can meet your basic needs. Suitable for household and industrial usage.
Sturdy storage box: Drilling Driving Multitool comes in a sturdy PE box for convenient access and storage.
Package Included:
1 X Quick Flip Drill Driver
8 X Phillips (2pcs each: PH0, PH1 and PH2, PH3)
8 X Flat Bit (2pcs each:1/8"3.2mm, 5/32"4mm, 3/16" 4.8mm, 1/4" 6.3mm)
2 X Countersink Bits (3/32" 2.4mm, 1/8" 3.2mm)
1 X Allen Wrench
1 X Storage Box