ELECTRIC SPRAY PAINTER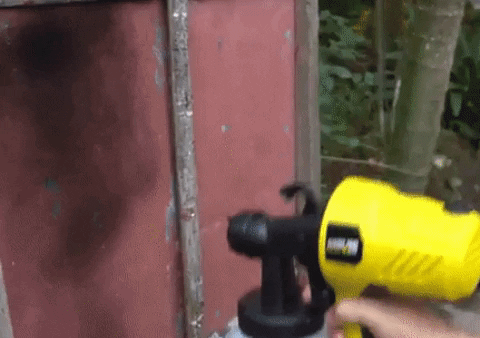 Tiring of painting your house using paintbrushes? Electric Spray Painter is here now! Using a spray painter is much faster than traditional paintbrushes or rollers. This is because the small paint particles that come out of the electric spray painter produce rapid full paint coverage of an area.
This is particularly good for tricky areas, such as wall corners or tight spaces that rollers can't normally reach. It is easier for a novice to start by using the electric spray painter on furniture as opposed to a wall.
FEATURES:
High Power & Superior Finish - With 400 Watts of power, this spray painter provides a precise spray pattern, creating a smooth and superior finish. It will be your best electric spray painter for tables, chairs, fences, interior walls, and crafts.
Adjustable Flow Control - Regulate your paint output by adjusting the flow control knob on the spray painter to get different paint output, suitable for edges, corners, and broad interior surfaces of various work and DIY projects.
Simple to Use - Jump right in with easy setup, easy spraying, and easy cleaning. This spray painter regulates the amount of paint emitted during use to prevent wasteful dripping, and an adjustment mechanism ensures even application of the paint.
Easy to Use & Wash - It is user-friendly, easy assemble, and easy spraying. With packaged cleaning attachments, you can clean it easily and efficiently.
Extra Long Power Cord & Lightweight Body - The power cord is long enough for you to move freely in a large work area. Paint sprayer with lightweight and handy size fits perfectly in your hand and let you spraying longer without fatigue.
PACKAGE INCLUDES: 
1 x Electric Spray Painter