Perfect Kit for Timeless Craft!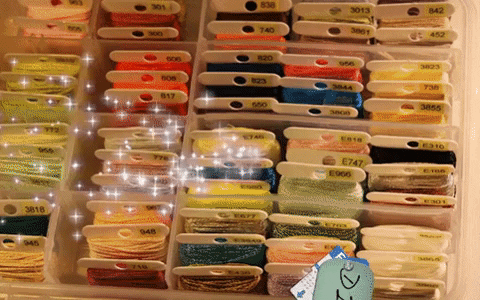 Do you want the Best Cross Stitch Kit and Embroidery Floss on the marker? Go no further. This embroidery Floss Kit comes with everything you will need to create all of the DIY crafts and projects you desire!
FEATURE:
🧵 A VARIETY OF COLORS AND DESIGNS OF FLOSS! 
Any style, design, and color floss or thread that you need is included in this kit! Embroidery floss set includes a variety of 50 / 96 / 100 / 108 different colors and cotton threads. Each floss included in our kit is over 26 feet long and made of 6 string cotton floss. This embroidery floss is also pre-wound on bobbins, with each bobbin labeled with a corresponding color code, so you can find the floss you need immediately to help save you time!
🧵 PACKED FULL OF EVERYTHING YOU NEED! 
This embroidery floss kit is a portable organizer storage box that can hold all of your floss, thread jewelry, and more! The box is large enough that you can store any projects and crafts inside it and carry them with you wherever you need to! Embroidery floss kit is packed full of all the things you need to create the perfect DIY craft or project. Let us save you from making multiple trips to get all your supplies! We have them all right here!
🧵 HIGHEST QUALITY CROSS STITCH THREADS!
Made of the best quality cotton, each floss is twined by 6 string floss, soft, high-tenacity, and not easy to fade. These 6 strands can be separated easily and used as a single strand, double strands, or more for stitching into different projects and adjusting the thickness to whatever you would like! Embroidery floss kit will only make your crafts, projects, and artwork look more beautiful!
🧵 GREAT GIFT IDEA!
This embroidery floss kit is the perfect gift to give to your kids for them to create crafts or projects at home! It gives you all the supplies you and your kids need for handcraft activities. Ideal for their DIY crafts such as bracelets, sewing, weaving, and knitting, cross-stitching, and any other creative projects, kids will love using this kit for hours! This embroidery kit can be a great starter kit for beginners and adults as well as kids.
SPECIFICATION:
Color: Variety of Colors
Accessories Selection: 50 / 96 / 100 / 108 Color Accessories
PACKAGE INCLUDES:
1 set x Embroidery Floss Kit (including