Remove annoying rust stains on bags, shirts, and any fabric!
Fabric items with stubborn rust stains that cannot be completely washed and cleaned up with water. We have good news for you! Instantly remove rust stains on your clothes or bags with the Fabric Rust Stain Remover! It is a pure-based liquid formula that is fast-acting and deep cleans stubborn rust stains without leaving behind a greasy, sticky, or firmly residua.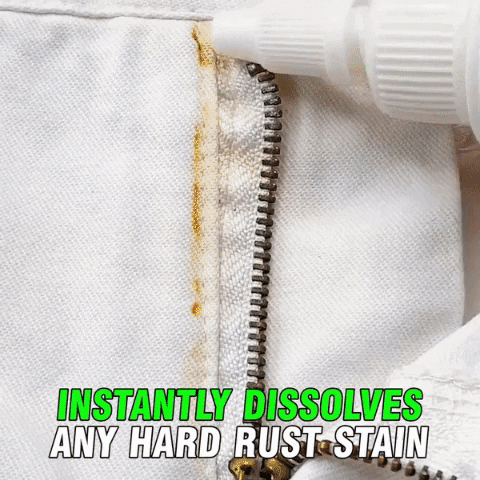 Features:
INSTANT REMOVAL OF RUST STAINS – It only takes a matter of 3 seconds to solve any of your rust stain related problems! Simply apply this superior cleaning agent on the stained area then rinse thoroughly. Notice the rust stain instantly fades without a trace.
ADVANCED RUST DECOMPOSITION TECHNOLOGY – The Fabric Rust Stain Remover penetrates and emulsifies tough rust stains that regular washing often leaves behind. It has advanced rust decomposition technology making it more powerful by quickly decomposing the stains.
EASY TO APPLY – Simply apply a few drops on the stained area then rinse well. Stains are completely gone leaving no trace after application.
SAFE TO USE – This stain remover is specifically formulated for the treatment of rust stains. It is proven safe and mild on the skin. It also has no adverse effect on fabric yet tough on rust stains.
Package Includes: 1 x Fabric Rust Stain Remover