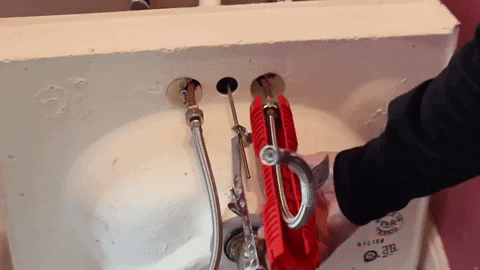 Working at a limited space is difficult and time-consuming, why don't invest on the tools that will enhance your productivity. The Faucet & Sink Installer Tool is the savior, it is the multi-purpose plumbing tool that lets you work faster, easier and more efficiently under-sink on supply lines, fittings and nuts.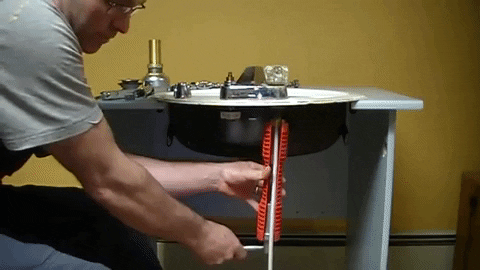 With the Faucet & Sink Installer Tool, you can fasten and removes plastic basin nuts and supply line nuts, along with 7/8-inch and 1-inch hex nuts. No more handling large wrench in the limited place! It is a great addition to any toolbox, with the extra-long handle design, it is ideal for hard to reach applications, you can now easily reach any mounting nuts on faucets and sprayers.

FEATURES:
8 in 1 MULTIPURPOSE WRENCH: The faucet wrench is suitable for supply nuts/shut off valves/strainer baskets/supply line nut/faucet nuts and can work with most common 2, 3, 4, and 6 tab basin nuts. The different slots and holes in the tool fit the various bolts under the sink.
EXTRA-LONG & OPEN SLOT DESIGN: This multipurpose wrench tool is indispensable in replacing an ordinary wrench in virtually every situation as it fit into that tight area with ease. And the faucet wrench allows easy access over existing supply lines so that you will work sitting down outside of the cabinet.
EFFICIENT DESIGN & LABOR-SAVING HOLE: With this wrench tool, it is so much more convenient to access tight area and takes less time to turn hard-to-reach mounting nuts on faucets, sprayers and ball cocks. With the labor-saving hole, it makes the rotation easier for a woman.
GREAT CONSTRUCTION & HANDY TO HAVE IN TOOLBOX: The wrench is made of lightweight, high-strength ABS engineering plastic and durable aluminum alloy inserts. This multipurpose wrench is a must-have for your toolboxes.
PACKAGE INCLUDES: 1 x Faucet & Sink Installer Tool