Massage away the tiredness from your body!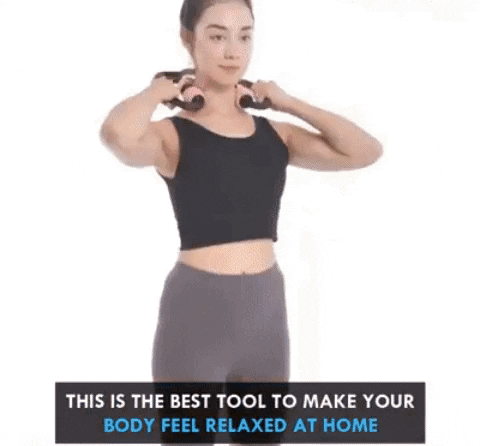 This Foam Roller Muscle Relaxer is the best choice for you. It helps promote blood circulation, relax the body, and make your skin smooth. Release myofascial trigger points to reduce muscle soreness, tightness, and rubbing muscles for relief and recovery. With a unique ergonomic design, you can widely use on the entire body such as legs, arms, neck, shoulders, head, and other parts of the body. It can also be used as a cellulite massager to quickly break down fat cells and make the body healthier. Equipped with 5 independent rollers that provide thorough massage to your body that do not interfere with each other and rotate smoothly. 
Features:
MAIN FEATURES ADVANTAGES – This roller massager can release tension and help increase joint flexibility, reduce cramps, improve blood circulation, relieve shoulder tension, and enhance the elasticity of leg muscles.
EASY OPERATION – It is compact, lightweight, and easy to operate, providing excellent comfort and effectiveness. For physiotherapy equipment, it is the ideal accessory for you.
REDUCE FAT – Reduce the accumulation of hand fat, reduce rectus muscles, and reduce sedentary neck pain.
SKINNY LEGS – Beautify the leg lines and say goodbye to muscle soreness. Surround the massage to prevent the legs from getting thicker after exercise.
POWERFUL FUNCTION – 360° wrapped massage, fits the skin, and can massage multiple parts. Smooth drop-shaped floating-point, soft and not stinging. Elastic bracket, adjustable width, suitable for various body types.
SOFT AND SAFE MATERIAL – This new type of eco-material feels good on your skin, and won't cause irritation during the massage session.
Package Included: 1 x Foam Roller Muscle Relaxer