Glass Nano Repair Liquid helps you minimize the appearance and stop the spread of chips and cracks in your windshield.
Your days of worrying about those cracks in your view are over with this all-new Glass Nano Repair Liquid that makes you feel confident about your car's appearance again while saving valuable time and money. It is the easiest one you will ever use when it comes to repairing your windshield.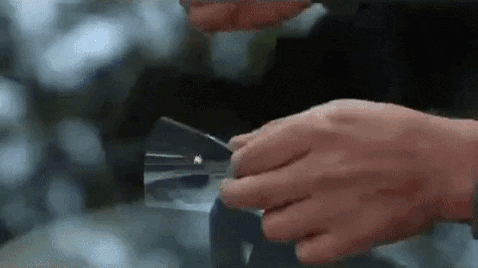 FEATURES:
Fast Repair - It can quickly and easily repair small cracks chips only in 20-30 minutes. It prevents damage from spreading restores the windshield to near new condition, and provide long-lasting maintenance effect.
Easy to Operate - The windshield repair kit is easy to use, first, clean and dry the windshield glass surface and then squeeze the resin into the cracks. then put on the cured film, then quickly dry and solidify under ultraviolet light 5-10 mins. It is to scrape off the residual resin with a spatula.
Perfect Design - It is designed with a reinforced injection sealant dispensing head, Advanced resin formula, can produce a strong pressure. and it has a vacuum function to quickly remove air from the crack. It can achieve better repair effects.
Widely Use - It is designed for most types of outer glass small damaged by double-layer laminated windshield glass. It can effectively repair small chips, bulls-eye, spider web, star-shaped, Half-moon crescents, crack not more than 12 inches/ 30 cm, and round damage not more than one inch in diameter.
Safe & Harmless - The windshield crack repair kit is made from the material without chemicals or toxic material. It is environmentally friendly and does no harm to humans' health.
DIRECTIONS FOR USE:
As soon as the damage occurs, cover the area with Transparent Tape to keep moisture and dirt from entering the damaged area.
The damage should be repaired as soon as possible to prevent small cracks from spreading.
Do not make repairs in direct sunlight.
The ideal application temperature is 60°F to 90°F (15°C to 32°C). Allow the vehicle sufficient time to acclimate to this temperature if it has been in either a hot or cold environment.
Surfaces must be clean and dry to make a proper repair.
Do not allow the resin to come into contact with the car's painted finish, wiper blades, or plastic trim as this may cause damage. Not all damages can be repaired to restore full optical clarity.
IMPORTANT! To reduce the risk of chemical contact to skin and eyes, always wear safety glasses and gloves when handling this windshield repair kit
PACKAGE INCLUDED:
1 Set x Glass Nano Repair Liquid