Now you can create your own unique look and add eye-catching colors to your hair in minutes with this Hair Chalk Comb.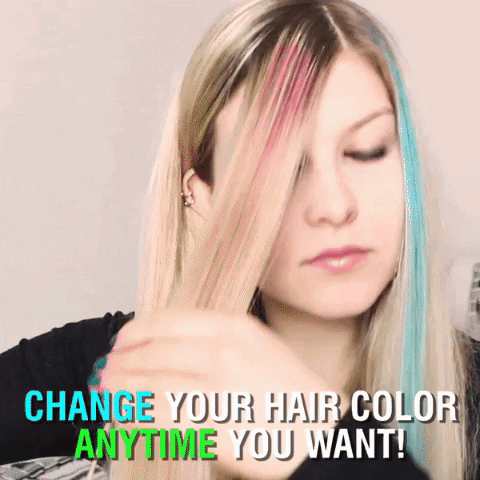 This "easy-on, easy-off" hair chalk is great for women and men who like changing their look often, or who want to do something flashy with their hair on the weekend but have to go back to a "respectable" look on Monday. 
Ingredients are made of top quality and non-allergic, leaving hair feeling soft and natural. You can 
use this color individually or mix and blend colors on your hair. Grab yours now!
Features:
✿【Colorful Hair Chalk Set】- There are 10 bright colors hair chalks for your choice. DIY your hair color with your different dress-up or mood in different colors. Since these colors are NOT permanent, you can change your new look according to your preferences. 
✿【Easy to Use】- With the design of fixed comb, they are easy to apply on your hair from top to bottom without stain your hands. Features a small comb applicator to simply brush on your hair. Won't messing your hair and your hair will be supple and natural.
✿【Safety & Easy to Clean】- The hair chalks non-allergenic, non-toxic, and water-soluble. Suitable for children and adults. Colors can be cleaned simply by washing hair as normal with water and shampoo.
✿【Cool Gift】- It is absolutely a perfect gift for kids, boys, girls, teens, and adults when a birthday, parties, clubbing, festivals, cosplay, engagement, Christmas, Halloween, or other occasions, creating you a beautiful and unique look for yourself.
How to Use: 
Keep your hair slightly wet when you use the hair chalks.

Apply the hair chalks smoothly and evenly from roots to tips.
After you finished, make the hair dry by a hairdryer.
Apply hair spray or hair wax to make it more natural.
Note: These hair chalk are very easily applied to the light hair like gray and blond hair. But it is a bit difficult for the dark or brown hair, add some water first before you apply the color to the hair, then seal the chalk and dry the hair with a hairdryer.
Package Includes: 1 x Hair Chalk Comb