Uncap your honeycomb professionally 3 times more frames than the old scrapers!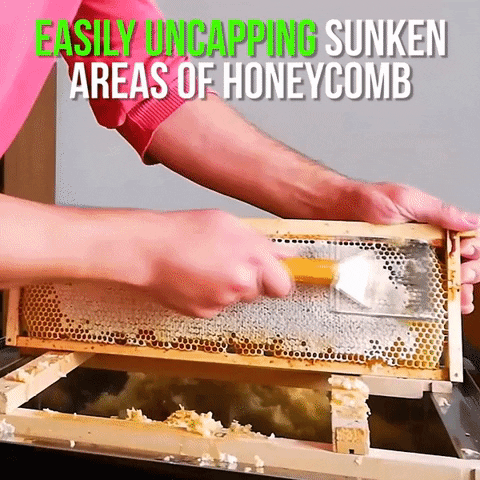 Innovative Honey Fork Scraper for cutting beeswax cover and cleaning the nest spleen. Made of high-quality 304 stainless steel which is sharp, rust-resistant, and durable. The fork has double stainless steel which makes the spleen is more detailed, and the operation is more thorough.
Comfortable handle with the high-quality wood or eucalyptus handle material, smooth and will not hurt hands. The comfortable grip is more suitable for the palm and cutting honey will be more labor-saving. Make the scraping operation easier!
Features:
Do it Like a Pro:

 I

t's hard to uncap your honeycomb professionally without using expensive heavy tools. this scrapper helps you to do it easily and efficiently
Help you to uncap faster:

 S

uper quick and does 3 times more frames than the old scrappers
Easy to use:

 

Effortlessly uncap sunken areas of honeycomb that cannot be decapped with a regular uncapping knife
Stop the mess: No mess and no waste! Also, the bees will not have to consume valuable honey to make replacement wax, as none is removed with this process
Traditional tools are hard:

 H

eavy tools can be tiring and painful to use. this lightweight scraper does the job effortlessly
Time-saving:

 

Easy to use and easy to clean
No more waste of honey:

 

This scraper helps to take off the right width of the wax so the honey extraction can be easy.
Specifications:
Material: Stainless steel + Wood Handle
Package Weight: 136g / 4.79oz
Package Included:
1 * Honey Scrapper