Do you want to make all your cake decorating tasks quicker and easier?
This Icing Pen has exactly what you need to get started. A few of the best and true decorating tips plus disposable decorating bags are all in one kit that you can start decorating cakes on your own. It is very easy to use, which your kids will also adore it! Ideal for both beginners and professional users. Use this decorating kit for baking pastries decorated to mark special celebrations like birthday or wedding.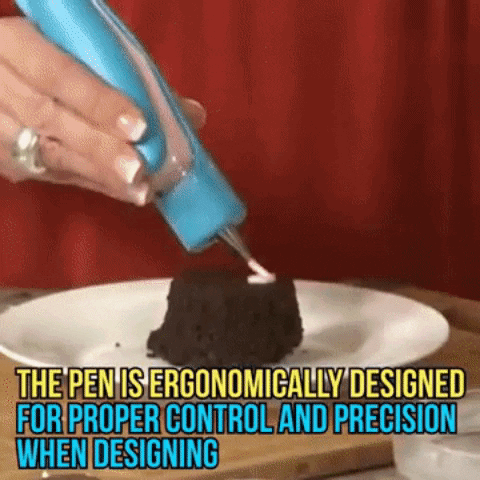 Features:
Compact, Lightweight, and Easy to Use: Easy to assemble and to swap out the tips to try out different designs.
Reusable and Non-Stick: It will help you save money than buying tools that are good for one use only. 
Easy to Clean and Dishwasher Safe: Good anti-slip property, so you can wash it with water in a short time.
All tips are made from durable stainless steel materials: Made of TPU materials, lightweight and handy size, very soft and flexible, corrosion-resistant, non-stick, tasteless, and non-toxic.
Suitable for adults and children to use: Seamlessly designed for safety added while decorating pastries, you can feel free to use the icing piping tips with your kids and ad family fun time in the kitchen.
Widely Used: Ideal cake decorating supplies tools to create many kinds of flowers and patterns on cakes, cupcakes, pies, and cookies. Also, a good cake decorating supplies kit for beginners.
Package Includes: 1 x Icing Pen