Lawn aerating has never been easier! The Lawn Aerator Shoes are specially designed to let you do your lawn aeration while you taking a walk around your lawn.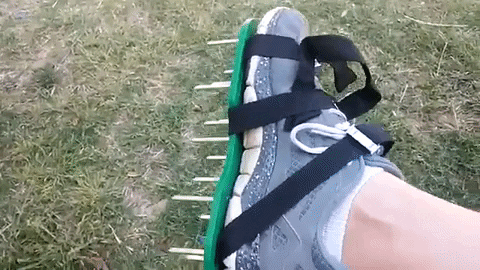 Keep your lawn green and healthy
Lawn Aerator Shoes puncture your lawn, allowing the important water, air, and nutrients to get down deep to your grass's roots. Grow a brighter, healthier lawn.
Simple, cheap, easy
Instead of renting an expensive aerator machine, or wasting time with an annoying hand lawn aerator, aeration shoes makes the process of aerating your lawn as quick and easy as possible. All you have to do is walk! You can wear the aerating shoes while mowing your lawn to knock out two chores at once and save time.
Strong metal buckles
Lawn Aerator Shoes uses strong metal buckles. One easy pull and this metal buckle tighten and hold firmly in place. You'll be able to strap your feet in tight and won't have to worry about the buckles breaking. 
One size fits all
These lawn shoes were designed to fit any size foot. We use 3 straps instead of 2, so you can secure the sandal firmly to your regular shoes and start aerating!
PROMOTES GREENER, HEALTHIER LAWNS - Lawn Aerator Shoes allow water, fertilizer, and air get down to grassroots, improving the health of your lawn.
3 DURABLE STRAPS W/ METAL BUCKLES - Lawn Aerator Shoes feature strong metal buckles that are designed to last long
ONE SIZE FITS ALL - Lawn Aerator Shoes have a sturdy base and thirteen 2" spikes.
QUICK AND CONVENIENT -

 

Simply wear these spiked sandals when walking your lawn for fast and easy lawn aeration.
CHEAPEST, EASIEST SOLUTION -

 

Lawn Aerator Shoes are cheaper than an aerator machine rental, and easier than using a hand lawn aerator!
PACKAGE INCLUDES: 
2 x Aerator Shoes

6 x Straps

26 x Spikes & Nut