Make Your Best Craft!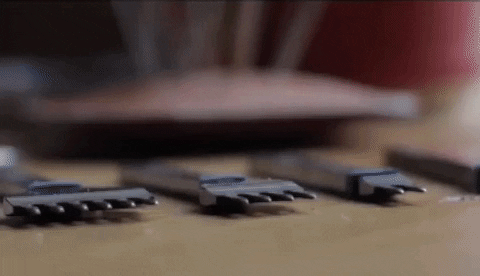 This Leather Stitching Chisel Set is one of the most common tools used while leather crafting. When punching these chisels into your leather you will be left with a small slanted diamond shape for each prong. This shape allows the thread to follow a slanted path throughout the project.
They are also very beginner-friendly since they are very easy to use that can punch through a thick layer of leather. Plus most leather hand stitching thread types and sizes work well with this diamond shape stitching tool.
FEATURES:
Wide Application - Since they have a nice length for the teeth it makes it much easier to punch through many different layers of leather. This way no matter the project you can easily create stitching holes in your project to start stitching right away!
Easy To Sharpen - The diamond shape of the stitching chisel allows for two sides of the chisel teeth to be available for sharpening. This way it is very easy to remove any damage from the chisel using high grit sandpaper and/or a strop with a polishing compound to bring the chisels back into action.
Easy to Use - The sharp prong is convenient to punch effortlessly and quickly. It can stamp holes evenly into your leather crafting project.
Ergonomic Design - Polished and smooth handle is comfortable to hold, sharp rhombus tooth is helpful to punch quickly and effortlessly.
SPECIFICATION:
Material: White Steel
Color: Silver
Size:
Total Length: 10cm/3.94inch
Number of Prong: 1, 2, 4, 6
Prong Width: 3mm, 4mm, 5mm, 6mm
NOTE:
The actual color may be slightly different from the image due to different monitors and light effects. Please allow minor deviation due to manual measurement.
PACKAGE INCLUDE:
1set x Leather Stitching Chisel Set