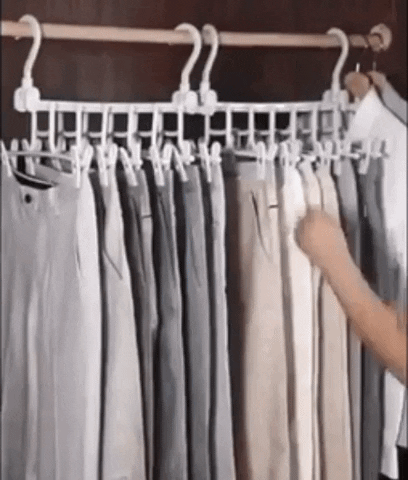 Tired of looking for a cloth you need in an overcrowded closet? 
Magic Space Saving Hanger is a 6-in-1 multi-functional hanger that able to help you store clothes efficiently and save more closet space. You can choose to hang vertically or horizontally to save space and store clothes easily. This hanger is designed with a non-slip clip to prevent clothes from falling off and 360 degrees rotating hook can withstand 15 pounds of weight. Equidistant design can be used both indoor and outdoor for wet and dry purposes.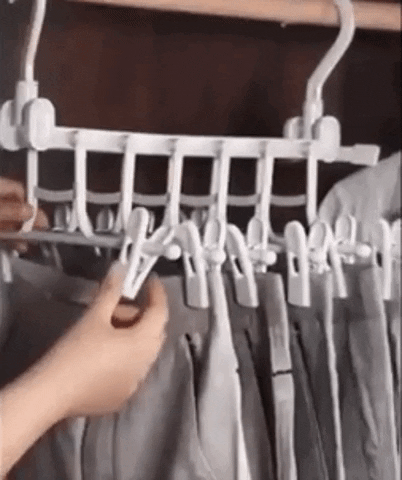 Features:
360 degrees rotation hook - Can be rotated 360 degrees, convenient and decisive. Easily to rotate the hanger when the clothes are uniformly exposed to sunlight.

 

The isometric design between each hanger allows air to flow and dries quickly.
6-in-1 design - Hold 6 garments at the same time. 
Folding magic hangers - No need to take off clothes one by one.

 J

ust fold the hangers and use a hook to hang in the closet, save time and space in the closet.

 

Hangers can be easily folded when they are not in use for business or travel.
Non-slip & adjustable - Designed with non-slip clips, no need to worry about the clothes falling off, the clips won't leave marks on the clothes.

 

In addition, the clip can be freely adjusted to the left or right and used to dry clothes of different ages.
Durable - Made of high-quality polypropylene material and strong load-bearing.

 

Ideal for jackets, pants hangers, shirt hanger, dress hanger, blouses, and accessory hanger.
Package Included: 1 x Magic Space Saving Hanger