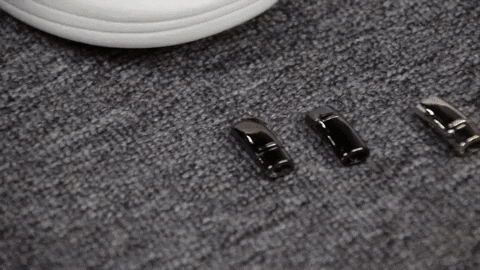 Conventional shoelaces are not easy to tie, they are easy to loosen, they are not fashionable and unsightly, and they are easily tangled and knotted. Frequently tying shoelaces is too cumbersome. Free tie-free, save time and effort, can be used by men, women and children, suitable for running shoes, casual shoes, hiking shoes, basketball shoes, white shoes, etc. The stylish metal Magnetic Shoelace Buckle makes the laces strong and stable, make everyone wear shoes easily.
FEATURES:
High Quality - The metal buckle is firm and stable, and fashionable and versatile. Solid and precise weaving workmanship, full of materials.
Better Fit - The buckle is small and exquisite, and is using curve design for better fit.
Convenient - Lazy people who use the buckle will no longer need to tie shoelaces. It is also a simple solution to assist the elderly and kids who are not able to tie their shoelaces
Wide Application - The metal hook is suitable for any shoelaces and can be used directly after installation.
SPECIFICATIONS:
Color: Gold, Silver, Gun Black
Material: Copper + Magnet
Size: Approx. 10mm*25mm
PACKAGE INCLUDED:
1 Pair x Magnetic Shoelace Buckle