Make Time For Your

Art

&

Listen To Your Art
If you love watercolor painting and glitter or metallic stuff, then this Metallic Watercolor Paint Set is all you need! This magnificent art set features an artist level high-quality watercolor that gives a glittering or metallic effect to your painting and makes it beautiful and more vivid with its unique mix of iridescent colors.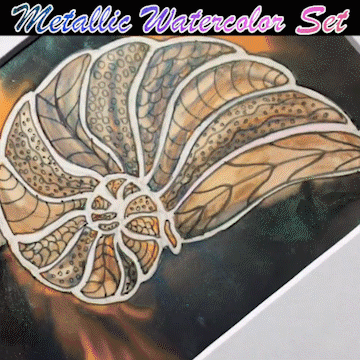 This specialized watercolor set is made of the finest and purest pigment mix to produce excellent transparency and diffusion, high saturation, and perfect for mixing and blending. They are also resistant to discoloration and fading. The paint sets are easy to carry and suitable to use anywhere, anytime.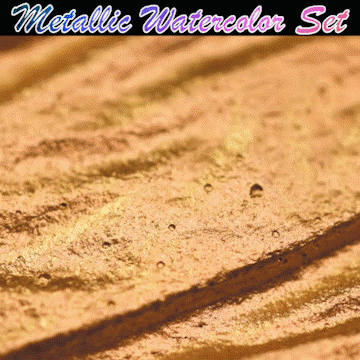 Features:
Shining & Vibrant Colors: Unique metallic watercolors infused with shimmering pigments to provide a lustrous liquid metal finish.
Unique Glittering Effect: Pre-mixed with a shimmering medium that gives your artwork a special highlighted metallic and glittering effect. 
Premium Material: Formulated with an extra rich and smooth mix of quality pigments that give these paints excellent diffusion and perfect for blending and mixing. 
Long-lasting Paintings:

 Designed to be resistant to direct sunlight, and will not fade or discolor, and dries super fast while maintaining the quality of your artwork. 
Easily Removed & Replaced: 

Different colors placed in individual small removable boxes so you can arrange the colors any way you want. 
Compact & Portable: 

The compact size makes it convenient to carry and suitable to use paint anywhere and anytime.  
Safe & Non-Toxic: 

Each color in this metallic watercolor palette is AP Certified and safe for artists of all ages. 
Specification:
Material: Gum Arabic, OX Grall

Color: 12 Colors
Package Included:
1 x Metallic Watercolor Paint Set