With a Multipurpose Drywall Cutter, you'll be cutting drywall like a pro in no time. drywall cutting is about the easiest, cleanest, and quietest of all remodeling tasks. Even an "all-thumbs" do-it-yourselfer can master the basics of how to cut drywall without worry, and even a big, sheet-wrecking mistake only costs a few bucks to remedy. In other words, it's work that's easy on the mind.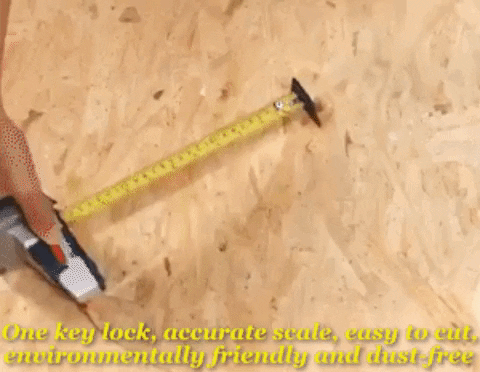 FEATURES:
Versatile Dry Wall Cutting Tool - It is a hand-tool for the do-it-yourselfer. Measure, mark, and cut drywall with one easy to use the tool.
Mark Measure & Full-Length Rip - User may cut with the included carpenter's pencil, which fits into the convenient holder so it will stay right where you need it.
Premium Quality - Durable ABS head and rubberized handle maximize balance and control, yet is lightweight.
Convenient & Fast - It is convenient to carry, save your time and effort. Drawing straight lines or circles fast and convenient.
Precision - It has a built-in heavy-duty SAE measuring tape with a secure lock that allows you to easily measure and transfer to drywall or any other material. Measure once, cut once. Its tape measure guide ensures consistent and accurate cuts.
Wide Application - It is suitable for a variety of materials including gypsum, foam board, KT board, cardboard.
SPECIFICATIONS:
Material: Aluminum alloy + TPR plastic
Color: silver + blue
Total length: 230mm / 9.1 inches
PACKAGE INCLUDED:
1 Unit x Multipurpose Drywall Cutter