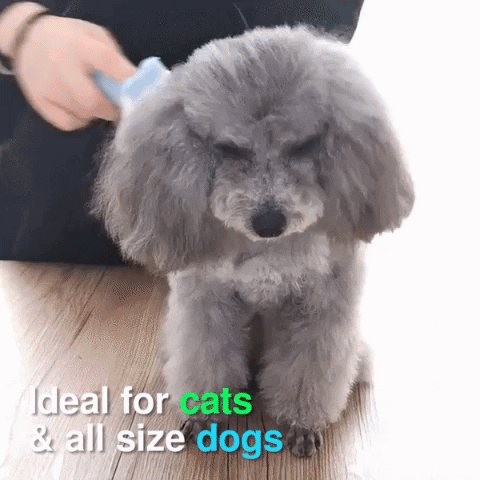 Want to get a professional pet grooming brush or comb to straighten a pet's coat and remove tangled, matted hair? The majority of long-haired breeds don't need to bathe that often, the good way to get rid of dander and trapped dirt is with a One-Press Pet Comb. The bristles are able to go into the coat at an angle that will prevent snagging and reach straight into the undercoat. It is also a self-cleaning comb with a fur eject button.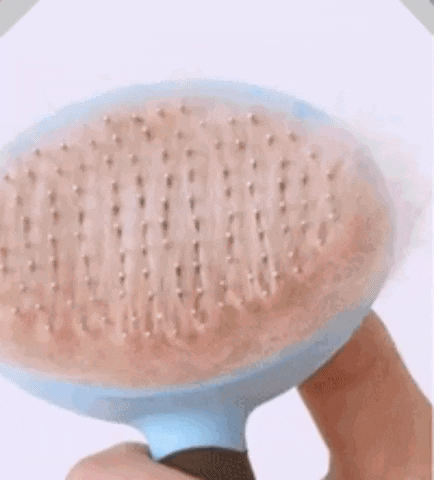 FEATURES:
Round & Gentle Comb Teeth - This comb features round teeth that break up tangles and effectively remove loose hair, dander & dirt trapped beneath fur.
Ergonomic Rubberized Handle - It finished with a rubbery grip which is safer & easier to use than most groom tools. The coating prevents slippery accidents to keep you & your pet safe.
Improves Overall Pet Health - The comb is designed to gently massage your pet's coat, the anti-scratch teeth on this comb naturally support the health of your furry best friend by boosting circulation.
Flexible Head - It can be more flexible when combing pets, and more coat parts of pets can be brushed.
Easy to Clean - One of the benefits of this comb is easy to clean, it's important to make one product be healthy pet supplies, and this product can do it. Choose it and let your pets keep healthy.
Soft Working - There is a protective head on each wire of the brush head to protect your pet's skin from scratches, grooming slowly, and gently, your pets will enjoy the massage-like grooming.
SPECIFICATIONS:
Color: Red, Blue
Size: 10 x 18.5cm / 3.93 x 7.28" (Approx.)
PACKAGE INCLUDED:
1 Unit x One-Press Pet Comb