Draw cake art perfectly like a chef with ZERO skills!
Want to make celebrating extra special by baking and designing your own cake? Not a problem if you have this Optical Dessert Projector! It projects image reflection on a premium optical PMMA lens that you can draw on any opaque material.
It helps develop hand-eye coordination and basic drawing skills faster. Perfect drawing tools for junior and seasoned artists alike, for hobbies, school projects, or professional purposes.
FEATURES:
Helps to Decor Cake, Cookies & More - Using the principle of optical imaging, the image can be seen on the canvas when viewed through the lens that you can draw on any opaque material.
Quick & Easy Set Up - Place your tablet or smartphone in the stand, then position the lens and the surface you will trace on. The screen image will be reflected on the lens to be cast on the surface. You will be able to see clear lines and details to trace.
Based on Classic Optical Principles - The projector is more accurately described as an advanced version of a camera obscura or camera lucida - one specially designed for mobile devices. It features a durable PMMA lens with a special optical coating that enables high-resolution image projection with ultra-clear visibility.
Support Mobile Phones & Tablets - It fits any phone and tablet size so you can now trace and draw with no sweat!
Great for A Variety of Projects - This tracing line drawing painting board is suitable for children, adults, comics/anime lovers, beginning artists. And you can use it to practice calligraphy, learn to draw, draw for T-shirts and bags, etc.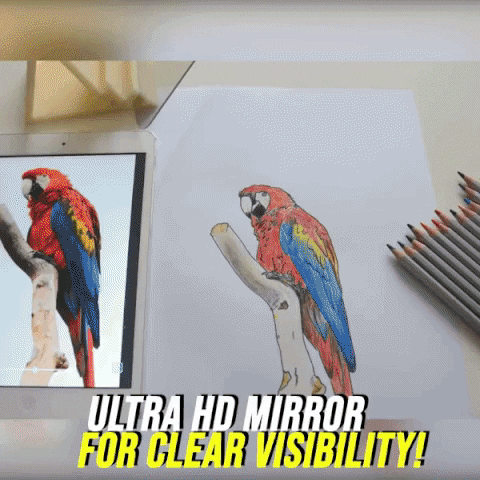 SPECIFICATIONS:
Material: Acrylic + Felt Wool
Size: 7.87" x 5.12" x 0.05"
PACKAGE INCLUDED:
1 Unit x Optical Dessert Projector