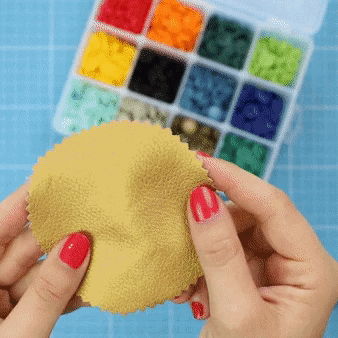 Plastic Snaps Hand Held Pliers Tool Set is commonly applied to clothing, cloth baby diapers, bibs, towels, craft, sewing, household projects, and other embroidery household projects. 
FEATURES:
Plastic Snap Buttons: Skin-friendly no rust snap fasteners has high quality, it will be fine if it washed and dried by machine. Variety of colors to better match your fabrics, materials, or projects and to ensure you create the perfect look that's also super functional.
Perfect for All Kinds of Household Projects: You can use it to make baby bibs, diapers, towels, children's clothing, nurse uniform, rainwear, shirt, coat, jacket, backpacks, hats, shoes, bags, DIY, handicrafts, handmade cardstock, etc.
Easy to Use: Push the prongs through the fabric, add a stud on top of one of the prongs, and a socket on top of one, place the cap in the pliers and squeeze, complete. Great kit for both professional tailor and starter.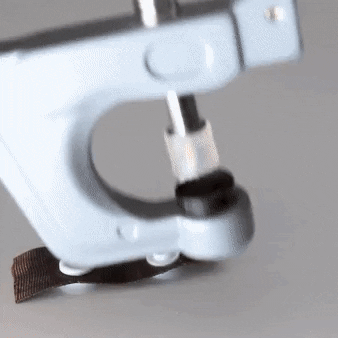 Snap Button Pliers: It can be used to add snaps to a wide range of different clothing or accessory items and work with T3, T5, and T8 snap. Only takes a few seconds to install. You'll love the ease and convenience of the plier.
USER GUIDE:
Step 1: Prepare the fabric, prong, and snap cap with the necessary tools.
Step 2: Mark the place of snaps on a project, use the awl to make a small hole in the fabric.
Step 3: Insert the prong of the snap cap into the hole and place the socket over the prong.
Step 4: Be ready for the prong with the snap cap.
Step 5: Position plier with cap in black die tray and socket under the rubber pressing head.

Step 6: Repeat inserts with the second prong of the snap cap into the hole and places the socket over the prong.
Step 7: Make sure the cap is centered and seated in the die tray and squeeze the plier firmly for secure.

Step 8: Repeat with the second cap and stud.

Step 9: Check the snaps.
SPECIFICATION:
Material: Metal and plastic
Size: approx. 16.2cm (Snap Plier), 1.2cm (Button)
Color: Variety of color 
NOTE:
The actual color may be slightly different from the image due to different monitors and light effects. Please allow minor deviation due to manual measurement.
PACKAGE INCLUDED:
1 x T5 plastic snaps buttons (approx. 150 pieces)
Button Colors:15 selection colors (random)
1 x Snap Pliers
1 x Metal Rod
1 x Screwdriver
2 x Plastic Dies