Looking a sprinkler that you can use to keep your garden or lawn green and healthy all throughout? 
This Pop Up Lawn Sprinkler is packed with dozens of useful features and offers you a convenient watering system, so you can relax and have peace of mind that your landscapes are kept green and healthy on all spots! This high-performance lawn sprinkler that easily installs and suitable for a variety of different occasions. It can cover a lot of areas with a spray distance up to 30 feet. Three patterns of spraying angles optional which are 360-degree (fully open or for the middle place); 180-degree (for side corner); 90-degree (for corner).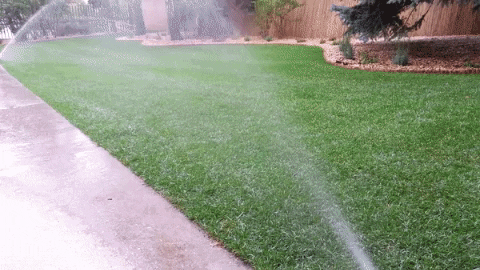 Features:
★【LONG SPRAY DISTANCE & WIDE COVERAGE】Lawn sprinkler covers a lot of areas with a spray distance up to 30 feet for maximum water exposure (water pressure 60 PSI). 

★【EASY TO SETUP & USE】Buried design for lawn and garden watering system, ready to work underground. Just connect to the pressure pump and water pipe, pop up and start to work when it gets the adequate spraying pressures.  

★【EFFICIENT & SAVE TIME】Compared to traditional handheld-sprinkler, using this will be more efficient and save more time. Lawn sprinkler uses less water to spray larger areas. This lawn sprinkler is suitable for a variety of different occasions.

★【MULTI-PURPOSE】This lawn sprinkler can be used for lawn, agriculture, nursery and grass irrigation, compatible with home, garden, yard, roads, and greenhouse watering.

★【MORE MODES & DURABLE】There are 90/ 180/360-degree spraying angles optional. Allows you to choose different kinds of sprinkling mode on this lawn sprinkler to satisfy your various water spraying need. Made of high-quality ABS body to ensure long life use, brass spray head and internal filter prevent for blocking. 
Package Includes: 1 x Pop Up Lawn Sprinkler