Bring your grafting experience to the next level! Introducing the Professional Garden Grafting Tool, it's different from traditional grafting tools, this product does pruning and grafting at the same time, easy to use and more efficient. 
Making the perfect cut for grafting is impossible without professional tools. Professional Garden Grafting Tool comes with 3 replaceable grafting cutting blades (Ω-Cut U-Cut V-Cut) that can make precision and clean cut. Pruning blade (3mm thick) is ideal for removing leaves, twigs, and stems without changing the tool. This tool is perfect to cut grafting plants' twig whose diameter ranges from 5mm-1.4cm/0.2"-0.55". Handles are made from ABS plastic, the rest part and blades are made from high carbon steel, chrome treated for durable sharp.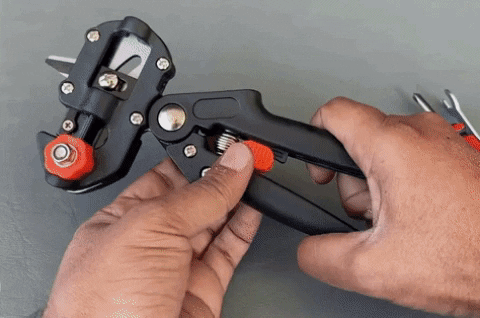 Instruction:
Step 1: Hold the grafting stock in the grafting tool and squeeze the handle to make the cut, repeat this step to cut the stem from the donor plant. Take care to ensure that the groove is cut in the stock plant.
Step 2: Slide the donor stem into the groove of the stock plant, matching the cut surfaces as close as possible. If the stock and donor plant are not the same size, match it on the side.
Step 3: Place sterilizing material around the joint, and bind with tape, the sterilizing material will protect against bacteria and weather conditions. 
Step 4: Use the pruner to cut useless branches from the plant.
Step 5: The grafting tool with "V & amp; U & amp; Ω" blade can be used twice, once it's worn out, just turn and reposition the blade and they serve as a new one.  
Package Includes: 1 x Professional Garden Grafting Tool