Are screws hard to stay on the screwdriver?
It's very common for screws to drop to the floor or become lost when you try to fasten them. The Quick Magnetizer counteracts this problem. It magnetizes screwdriver tips quickly and effortlessly so that screws and small parts can be mounted much more easily. You can demagnetize the screwdriver again by pushing it through the steps several times until it is demagnetized.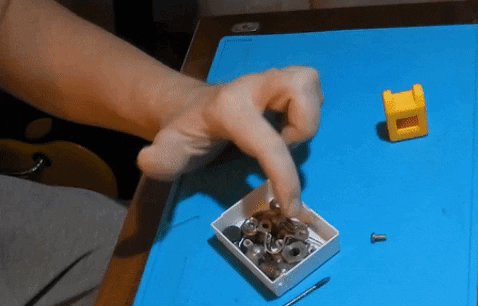 The tool's strong permanent magnet has an extremely long service life and is also suitable for magnetizing tweezers and other steel tools.
FEATURES:
EASY TO USE- No batteries or electricity required. To magnetize a tool, simply slide it through the center hole. To de-magnetize, a tool, slide it through the side slots. If you need to work with electronic parts requiring demagnetized tools, just insert the screwdriver tip in the negative terminal cavity. To magnetize the screwdriver tip, insert it in the positive terminal cavity.
PORTABLE- The lightweight and compact design make it amazingly portable to fit in tool bags and super easy to store in workshops/tool sheds. Since it does not require a battery, it is even more portable and can be deployed for used at any time.
CONVENIENT- Converts any tool blade to a magnetic retriever of screws, nuts and metallic particles. Perfect for demagnetizing tweezers, screwdrivers, and other small tools.
IDEAL IN WORKSHOP- Perfect for do-it-yourselfers, mechanics and carpenters. A must for every toolbox! Perfect for screwdrivers, nut drivers, wrenches, tweezers, and other steel tools. 
PACKAGE INCLUDES: 1 x Quick Magnetizer