WANT TO HAVE A CLEAN AND FRESH REFRIGERATOR?
Using this brush maximizes foods' taste since the stains and bacteria buildup does not make it to your refrigerator and food. Long Flexible Refrigerator Drain Brush perfect for cleaning refrigerator drain, car sunroof drain pipe, or other long hoses. Long Flexible Refrigerator Drain Brushes Tubular-shaped brush on one end and loop end on the other. Nylon bristles softly scrub away bacteria and stain buildup without damaging.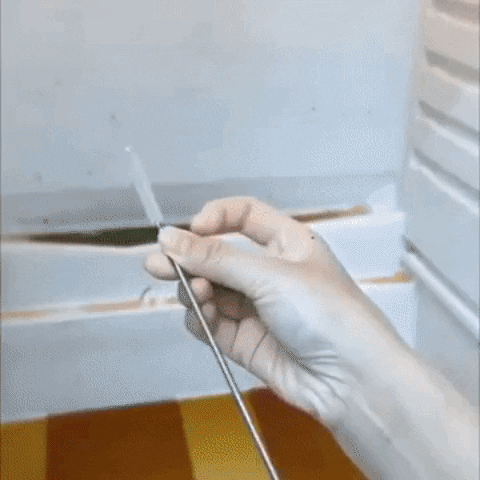 FEATURES: 
Maximally Maintain Food Taste: This brush maximally maintains the food taste. With a total length of about 61 inches (155 cm), it is can be used to clean refrigerator drains, car sunroof drains, or other long hoses.

Flexible and Durable: The tube brush is very flexible and can be used with curved tubing (angle less than 90 degrees). The nylon brush hair cleans sewers, food, grease accumulation, and debris. The product is durable for long-term use.

Simple Operation: Put the flexible rod (brush head first) into the pipe, and gently scrub the inside while pushing the brush outward. The flexible and strong brush body is easy to bend and can enter any drainage pipes.

Soft Touch Feeling: There is a tubular brush at one end and a ring at the other end. The brush hair can gently wipe away dirt without damaging the pipeline. Suitable for any surface material (copper, vinyl, plastic pipe applications).

Keep Hose Clean: The flexible scrubbing brush can clean refrigerator drain pipes to remove dirt and avoid contaminating the hose, food, and objects.
SPECIFICATION:
Materials: Nylon Brush + Stainless Steel
Length: approximately 155cm (61.02 inches)
Weight: 60 grams
 PACKAGE INCLUDES:
1 x Refrigerator Drain Brush