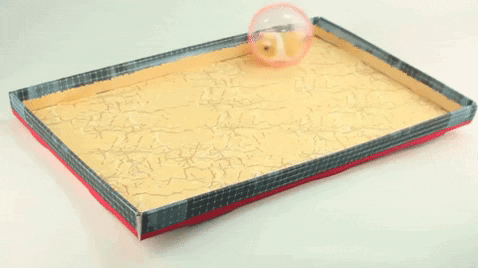 Are you looking for a creative funny toy for your kids or pets? This Running Hamster Toy will be your best choice. The hamster's little motor revolves the plastic ball and will keep going. The hamster runs in a ball with realistic running action. It is fun and interesting that your love ones will love it.
FEATURES:
With the ball, the hamster can scroll quickly.
Very realistic, lively and interesting.
Environmentally friendly materials for children and pets to play. It is small and cute, easy to carry.
Benefits for Kids:

This is a beautiful, fun toy that stimulates children's intellectual development and parent-child communication.
This is a great toy gift for kids who want pets. The children will be very happy when they look at the animals that are running.
This kit builds fine motor skills in toddlers and inspires older children the imagination and interest in science, technology, and design. Best educational stacking kits for your boys and girls.

Benefits for Pets:

The ball rolls with random movement stimulating your pets' senses and holding their attention for hours on end. It prevents unwanted destructive behavior due to boredom or anxiousness.
Providing mental stimulation & serving as important tools in behavior modification. This toy is mentally and physically stimulating and assist in fulfilling a pet's emotional and physical needs.
SPECIFICATIONS:
Ball Diameter: Approx. 12cm
Hamster Size: Approx. 9cm*5cm*6cm
Battery: 1 AAA battery (not included)
Plush Classification: soft short plush
PACKAGE INCLUDED:
1 Pc x Running Hamster Toy