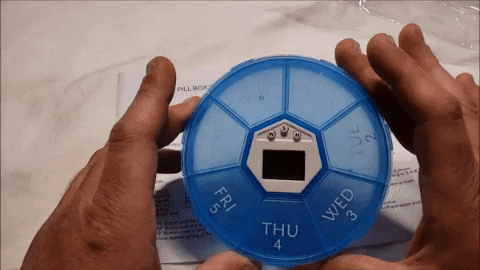 Are you taking medicine on time? Or mess up the medicine because of too much have to take? Did your home elderly often miss because of sleep medication time to sleep?   
Introducing Smart Pill Organizer, a perfect medication planner for scheduling your week's medication. Features an innovative alarm reminder to help you avoid missing the medication. This pill organizer is easy to use and designed with a clear lid to allow easy visibility of medication to help prevent missing does. It is made of food-grade and non-toxic material to keep your medication safe and secure when you need it.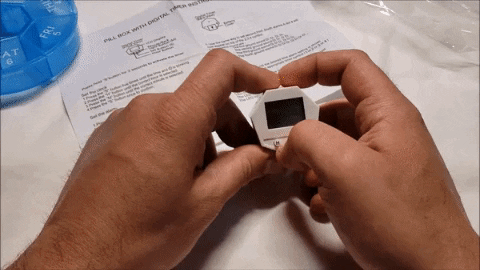 Features:
💊 PILL ORGANIZER 7 DAYS - Simply organize your weekly medication at the beginning of the week, feature with alarm reminders and separate into 7 compartments. Perfect for those who need a large pill dispenser to fit all of their medications and vitamins.
💊 4 GROUPS ALARM CLOCK - It can set up 4 groups alarm at the same time. Memory function and loud escalating beeping alarm. The pill organizer can help you avoid taking wrong or missing the medication. Great reminder for caregivers, seniors and those who have a difficult time keeping track of their medications.
💊 MULTI-FUNCTION USE - The timer of the pillbox can be used alone. When taking the timer down, you can wash the box easily. The pill holder also with an LED backlight, with this accessory you can easily use it at night. 
💊TRAVEL HELPER - This organizer is ideal for a week's vacation. The lids will stay closed so your pills do not spill out at the bottom of your bag or purse. Easy taken and lightweight for easy travel.
💊 SUPERIOR QUALITY - Made of durable ABS and food-grade materials. Sturdy and long-lasting to storage your valuable pills.
Package Included: 1 x Smart Pill Organizer (Battery Not Included)