This wiper restorer can make your old windscreen wipers working like new in an easy and fast way. 
Your wiper blades can last much longer than you think. With this Smart Wiper Restorer, you can increase the life of your wiper blades. Saving hundreds of dollars over the tool lifetime, providing a quality product that is easy to use, smooth the surface of your blades for clear vision in harsh weather conditions. This Smart Wiper Restorer is suitable for restoring windshield wipers of all types of cars and you can use it many times.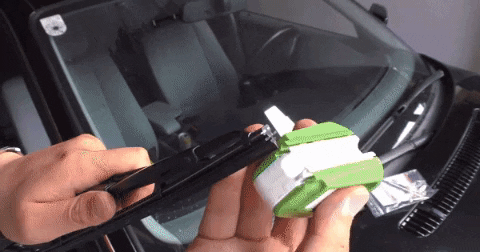 Features:
Effective & Easy - W

ith the extra thin and the specially coated micro knife blade, you get a streak-free view in just 3 seconds. easy to use and suitable for all brand wipers!
Using The Step - 1st step: clean your wipers of any dirt using liquid soap or washing up liquid; 2nd step - snip off your wipers with a regular motion - restore clear vision.
Great material & Design - Characterized not only by its ergonomic and practical design, as well as by its high-quality ABS material.
Money-Time Saving - Save you the money and valuable time you would have wasted on new wiper blades after the first application. do something good for your precious time and your wallet!
Package Included: 1 x Smart Wiper Restorer