Order one, let's cook more delicious tofu together!
A must-have utensil in the kitchen and very easy to use. This tofu drainer can help you remover water from the tofu block easily.
Tofu Presser is super convenient, once they're set up, they'll continue to press and don't require any additional attention from you. Just add your tofu the night before you want to eat it, or in the morning before you go to work, and it'll be ready to use when you get home.
Premium Tofu Press: light, tasty and chewy and all the things it absolutely won't be unless you squeeze the water out of it before cooking. That's what Tofu Presser does, transforming tofu's taste and texture and making it a must in any veggie or vegan household.
Effortless & effective pressing: it gets the job done with no mess, no fuss, and no need to keep re-tightening screws to get more water out.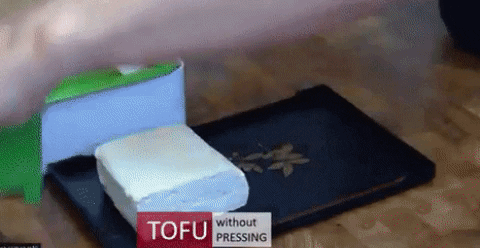 Central tofu holder and drainer: built-in with drainage holes in the bottom let water drip into the collecting tray, while the corner feet keep your tofu clear of the water below. The white tray at the bottom collects any water pressed out of the tofu, which can be poured away without having to take the press apart.
Safe and easy to use: the Tofu Press uses a powerful spring to squeeze out unwanted moisture in a stress-free, mess-free fashion. It's constructed with BPA-free plastic that's FDA-approved for food use, so you can confidently start concocting healthy Vegetarian meals.
Dishwasher safe: The press consists of 3 parts and a spring that is essential for it to work. The whole construction is made of plastic is BPA free, so you can assure that your food does not contain any unhealthy material. It is also dishwasher safe, so you don't have to waste your time cleaning it.
SPECIFICATION: 
Color: Green + White
Size: 16*14*8.5cm
PACKAGE INCLUDES:
1 x Top Lid
1 x Middle Strainer
1 x Powerful Spring
1 x Water Collecting Tray