Carve out
 

perfect contours

 

on wood crafts using this

Tooth Burr Bits

!
Introducing Tooth Burr Bits, the tool where you can carve the wood with speed and precision like a wood crafting pro. It comes in 5 different shapes that consist of a cone, longer cone, round, cylindrical, and oval tip. Simply attach it into your drill and you're ready to carve in a breeze!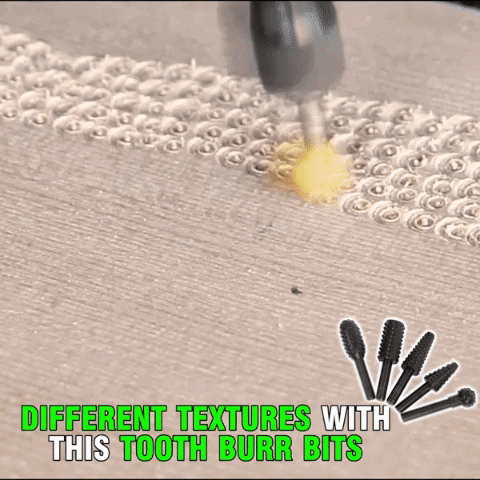 Tooth Burr Bits are made of 1050 steel material with hot-dipped black surface treatment which is very durable to use. It provides optimal precision and detailing, resulting in a smooth, delicate finish. Ideal for engraving, sculpturing, carving, and other woodworking tasks. Let's create your own wood crafts and bring the masterpiece into life. 
Features:
1/4 "6mm Shank Drill Bits Woodworking

Includes 5 shapes: round, oval, cylinder, large and small cone

Made of 1050 steel material, hot-dipped black surface treatment, sharper & durable

Easy to Apply - simply install and remove it just like typical drill bits. No-fuss, no sweat 

Make wood carving a breeze without damaging the woods. Carve accurately with a smooth finish. No retouch is needed

Ideal for engraving, sculpturing, carving, and other woodworking tasks
Package Includes: 5pcs Tooth Burr Bits