An upgraded version of Rubik's Cube-- Twist Puzzle Magic Ruler!
Bored with handphone games? Wish to do some interactive games with family members or friends? Feel like your brain is not functioning as well as before, cannot concentrate on your studies or jobs? Then you need some colorful things to boost you up!
An upgraded version of Rubik's Cube-- Twist Puzzle Magic Ruler! It is a toy that allows you or your kids to inspire their creativity and innovation while playing smarter and funnier. This magic ruler toy allows you to exercise their imagination ability, practical ability, spatial cognition, and observation ability. you can turn it into a straight line, snake, dog, stair, or another imaginative shape by rotating the triangle blocks of snake cubes, bring challenges and fun to your fingers and brain.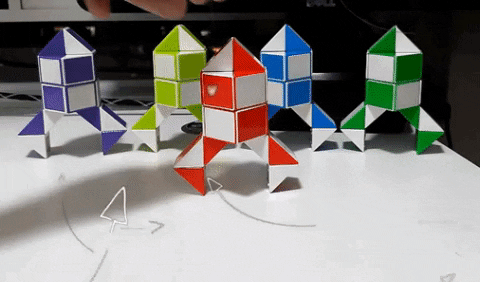 FEATURES:
Stimulate Innovative Thinking-

Th

is 

magic

 ruler

can be twisted into various shapes such as snake, dog, rocket, or other creative shapes.

 It helps to i

nspire

your

endless imagination,

 

great toys to develop creativity,

 and inspire new ideas through playing it.

Enhance Interactively- It is much fun compared to Rubik cube and other cube building toys as it can be turned into all kind of shape. A great toy to play with your family members or friends helps to increase interactivity and enhance relationships.
Enhance Intelligence- This puzzle ruler required you to use both your hand and mind to create a shape or thing. By that, you can empower your

handling ability, 

help to develop hand-eye coordination.

High Quality- It is highly curved, not easy to break, each section of the magic ruler is equipped with a small spring, which increases the toughness of the magic ruler, and it will not fold even if it is bent greatly.
Wide Age Range- This puzzle ruler toy is suitable for kids from 5 years old until senior who is 70 years old. 
SPECIFICATIONS:
Color: Pink, Red, Blue
Material: ABS

Size:

24segments, 36segments, 48segments, 60segments
PACKAGE INCLUDED:
1 x Twist Puzzle Magic Ruler
1 x Tutorial Book