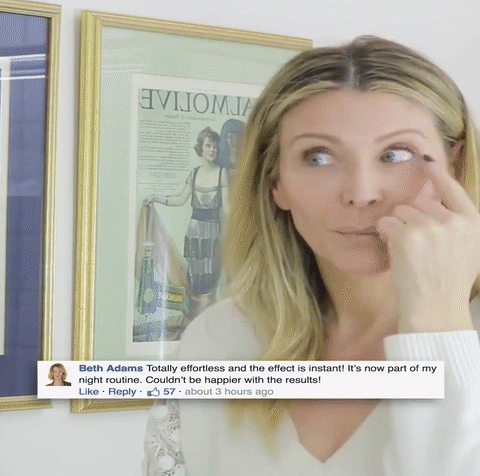 NO NEED FOR CREAMS

, EXPENSIVE TREATMENTS OR 

NEEDLES

. LIFT WRINKLES INSTANTLY OVERNIGHT! THESE PATCHES USE MECHANICAL LIFT TO HELP ACHIEVE THE RADIANT, REJUVENATED DREAM SKIN!
COMFY, POTENT, MEDICAL GRADE SILICONE PATCHES

 FIRM, PLUMP AND ERASE THE APPEARANCE OF  FOREHEAD, CHEEKS AND EYE LINES EVEN WHILE SLEEPING. 
APPLY PATCHES UNDERNEATH MAKE-UP FOR A

QUICK APPEARANCE LIFT

 

OR APPLY

 DURING THE NIGHT

 

FOR

 LONG TERM REMOVAL

 

OF WRINKLES BY

 

RESTORING COLLAGEN

 

AND

 NATURAL SHAPE.

WAKE TO FACE THE DAY WITH TOTALLYTRANSFORMED SMOOTH, RADIANT, REJUVENATED SKIN!
POTENT, MEDICAL GRADE PATCHES
Target and treat the most vulnerable, wrinkle-prone zones: forehead, eye and mouth, neck.

COMFORTABLE COMPRESSION + HYPER-HYDRATION
For your plumpest, smoothest skin.

KICKSTARTS SKIN'S NATURAL COLLAGEN
Encourage repair and help firm, lift, erase lines and wrinkles.

INCREDIBLE, VISIBLE RESULTS IN 1 NIGHT!
Plus, ongoing improvement over time!
STEP 1: CLEANSE + DRY
THOROUGHLY CLEANSE AND DRY SKIN BEFORE APPLYING POWER PATCH FOR LASTING ADHESION AND BEST RESULTS.
STEP 2: PLACE
GENTLY REMOVE THE PLASTIC FILM AND POSITION THE TRANSLUCENT, SELF-ADHERING PATCH ON YOUR CHEST AND CLEAVAGE AS ILLUSTRATED.
STEP 3: CATCH SOME ZZZ'S
WEAR THE PATCHES FOR 6-8 HOURS WHILE SLEEPING OR FOR A FEW HOURS FOR A QUICK BOOST.
STEP 4: STORE + REPEAT
AFTER USE, PLACE PATCHES ON THE ENCLOSED STORAGE SHIELD. RINSE PATCHES WITH WATER AND A CLEAR CLEANSER AS DESIRED.
PACKAGE INCLUDES:
12PCS X NO.1

24PCS X NO.2
27PCS X NO.3