No More Painful pulling of embarrassing Nose hair!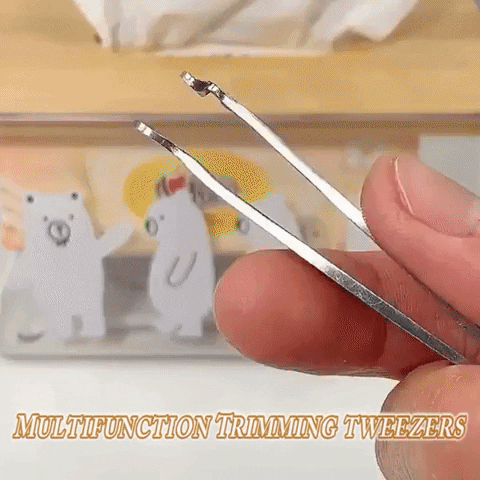 This Universal Nose Hair Trimming Tweezers has a friendly round tip design that allows you to, with safety, insert trimmer into the most delicate of places and simply "CLIP". No Mirror needed. It's that easy! It is perfect for travel, at work, or even in the car!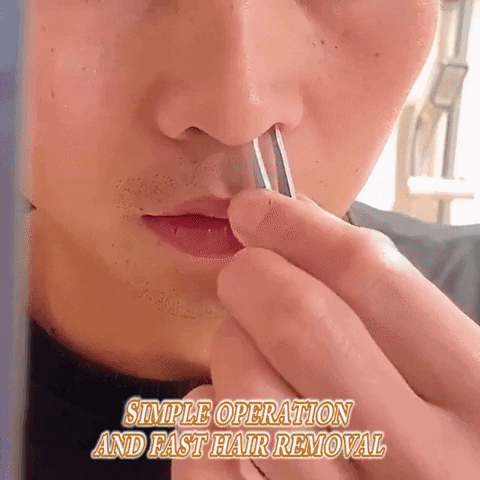 It is also perfect for sideburns, brow, body, nasal, big and small noses, using around the eye, detailing, or any other beauty need!
FEATURES:
More description of our Universal Nose Hair Trimming Tweezers – 
SAFE "RING" TRIM TECHNOLOGY -

 This Universal Nose Hair Trimming Tweezers's most significant part is the "ring" design. This trimmer comes with round trimmer tips that are safe for the nose and offers a very discrete clip! You can easily cut it by just putting the round head part inside the nose while drawing a circle. The ring in a circular shape is hand-made and high-quality. No more plucking! You can quickly and safely remove unwanted hair without risking nicks and skin irritation.
SIMPLE & PAIN-FREE SOLUTION - Most guys don't want all the bells and whistles that come with fancy grooming accessories. No batteries, no charging, and not even a mirror is needed! The tip ring, which acts like scissors, has the appearance of tweezers but without sharpness. This Universal Nose Hair Trimming Tweezers helps you to trim hair without pain. Its small size and secure design mean that you can carry it in your briefcase or jacket pocket discreetly. This makes it ideal for travelers and commuters.
JACK OF ALL "TRIMMERS" - Your nose isn't the only area that this trimmer can be used. It's also suitable for your ears, eyebrows, and sideburns! For ladies, this Universal Nose Hair Trimming Tweezers can swiftly trim unwanted hair and is ideal for more delicate details like eyebrow shaping. This safe trimmer is also useful for stray hairs on your body, for guys and girls! It is water-resistant to make cleaning simple and can be used in or out of the shower.

TOP-NOTCH DURABILITY LASTS FOREVER -

 This Universal Nose Hair Trimming Tweezers is made of 100% brushed stainless steel and designed to last a lifetime. This trimmer features a sleek stainless steel appearance and won't scratch or dent. The craftsmanship of a family that has been doing metalworking for the third generation since 1932 has been fully integrated into the manufacturing of this product. This trimmer offers stainless steel 304 with excellent durability without rust.

COMPLETE MEN'S GROOMING GUIDE -

 Nasal strands have been a common issue for many men, especially those who are middle-aged or older. However, the hair can often be ugly and embarrassing. These nose hairs can also be taken care of swiftly and comfortably. All you need is the right tool for the job! This Universal Nose Hair Trimming Tweezers is perfect for sophisticated modern men who are impeccably groomed. Also, this Universal Nose Hair Trimming Tweezers can be a simple and thoughtful gift idea for anyone who is looking for a more polished appearance.
SPECIFICATIONS:
Material:

 

Stainless Steel
Color:

 

Silver
Size:

 

9.3*0.9cm
Weight:

 

0.04kg
PACKAGE INCLUDED:
1 pcs x Universal Nose Hair Trimming Tweezers