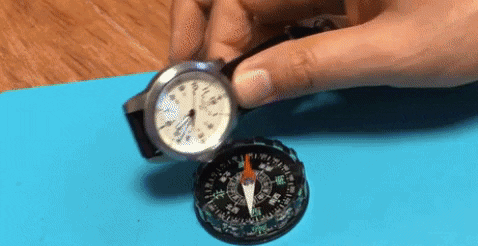 Any watch lover should know how to demagnetize a watch like a boss! You should always keep your watch away from any strong magnetic fields but having this Watch Demagnetizer to safely and quickly demagnetize your watch's movement can be pretty useful and save you a visit to the customer service department. This tool removes any residual magnetism on your watch in just a few seconds.
FEATURES:
Application - The watch demagnetizer is a practical tool for watch repairing workers. Mechanical watches are inevitably magnetized, and lead to inaccurate travel time. At that time, you need a demagnetizer to solve the problem, even if the watch is not magnetized, it is also a must-have product for watchmakers.
Correct Time - The demagnetizer is used to demagnetize your mechanical watches and correct the time, keeping your watch function well.
Sturdy & Durable - It is made with sturdy and durable plastic, for long service life. You do not need to repair your watch at the shop, saving time and money for you.
Easy to Carry - It is lightweight and compact which very convenient to carry and storage.
Safe & Handy - The watch demagnetizer is safe and handy to use.
SPECIFICATIONS:
Plug Type:

 

US Plug, 

EU Plug
Size: 117mm x 65mm x 55mm/4.61" x 2.56" x 2.17" (Approx.)
Power Cord Length: 1.2m/47.24" (Approx.)
Universal voltage: 110-220V
PACKAGE INCLUDED:
1 Pc x Watch Demagnetizer